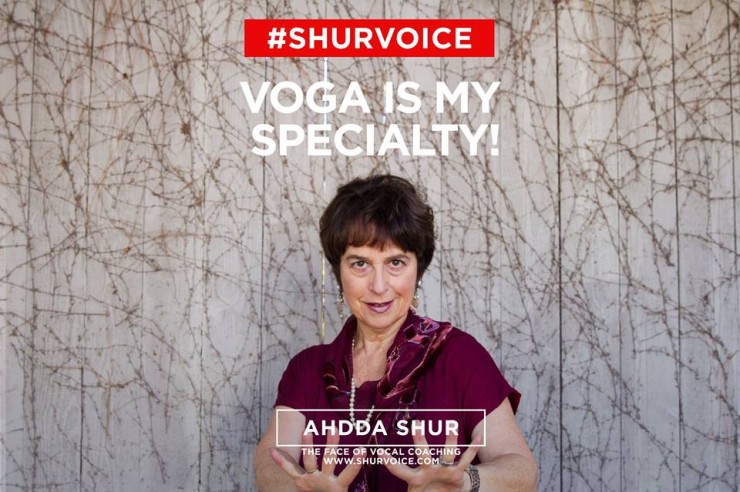 Spring break is coming up for some of my students, and I'd like you all to remember to continue daily vocal practice! Especially during the Spring Break, as that's when you'll unwind and feel more relaxed. It's best to practice when you are fully rested anyway! Building up your nervous system is as important as developing your voice.  You need to know how to calm down nervous energy or release tensions in the body that affect your singing. As a performer, you must develop a healthy way to manage daily stress and the demands of your career.
Remember to use my VOGA CD, which gives guided vocal and breathing warm ups for you to do each day. Since each track is only 9 minutes or less, it should be easy to find time to schedule this. These tracks should be done at home, sitting in a chair. It's important to set aside at least 10-15 minutes a day for yourself to get quiet, sit and do the tracks! Especially helpful is track #2 – Guided Mediation and Relaxation for releasing tensions in the upper body and breathing mechanism.  https://www.mayoclinic.org/tests-procedures/meditation/in-depth/meditation/art-20045858
Your voice is powered by the breathing and nervous system and directed by the higher mind.  For the past 25 years, I've been practicing meditation and sacred chant, on a daily basis, and spent some time in India studying these ancient paths to self-realization with a perfected Meditation Master. When I recorded my CD, I first went into a state of heightened awareness to access the enlivened energy from meditation. This awareness and elevated vibration infuses my VOGA CD, giving the tracks an added healing dimension. As this blog continues, I may share more about my mystical journey and experience of spiritual initiation.
Currently, I'm not selling my VOGA CD online, preferring to have it on hand for students who are taking vocal lessons with me. Ideally, with proper funding and planning I will be doing live webinars highlighting some of my VOGA methods, for professional and advanced singers.  I'm also considering when and where to give my next VOGA Performance Workshop for advanced/intermediate singers. More on that soon.
Re-reading the autobiography of Frieda Hempel "My Golden Age of Singing" (a famous coloratura singer in the early 1920's- 30's) which I do every so often, gives me real inspiration and energy to continue teaching young people about the noble art of singing.  In the mid-20th Century, Frieda began writing her auto-biography.  On page 291 she writes: "Screaming and yelling are not singing, even though the audience may react with excitement, just as it does to pyrotechnics. ..One of the greatest evils of singing, and the surest way to destroy the fine balance of an acquired technique, is the forcing of a voice beyond its natural limits…Our model was the perfectly placed tone, beautiful in sound, and capable of expression, flexible and rich in modulations of shading…in my mailbox nearly every day are letters from youngsters who have never heard me in person…Yet they feel impelled to write me and tell me of the great joy and inspiration they derive from the sound of our voices on records…they sense the desire that was in each of us to produce perfection, to create beauty, and to inspire."  These words are certainly true today, in a time when there is more "screaming" going on than singing, and as standards for popular singers continue to deteriorate.  https://www.last.fm/music/Frieda+Hempel  Her book: "My Golden Age of Singing" is available on Amazon.
During the Spring break, consider making time to be in beautiful nature, of which Southern California has plenty! Those with artistic sensibilities and talent need time to simply Be, rather than Do.  In our city culture, it's harder to unwind and simply enjoy the neighborhood.  Therefore, I highly recommend packing yourself a good lunch, taking some water and sunscreen, some your favorite music, get in the car – and if you are able to –go on a pleasant day trip somewhere in the mountains, or by the sea anywhere in Southern California.  I really enjoy going to the parks in the Santa Monica mountains and the Thousand Oaks area. It's usually no more than 45 minute drive for some of these locations. I love to walk and reflect and slow down in these areas. And, of course, once I'm relaxed and walking outside, I always find myself singing – and I hope you will too! https://www.lamountains.com/filming_parksearch.asp
To make your next Los Angeles vocal coach appointment, contact me today.